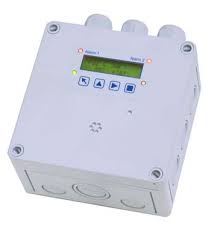 PolyGard® Standalone SPC-X3-11XX for Pollution / Emission Moniotor ,Toxic Polluting gases and vapours including oxygen Detector Sensor
By ALVI
ALVI Automation India (www.alviautomation.com) in association with Gas alarm systems, Australia(www.gasalarm.com.au) http://www.alvitech.co.auare  pleased to offer PolyGard® Standalone  SPC-X3-11XX for Pollution / Emission Moniotor ,Toxic Polluting gases and vapours including oxygen  Detector Sensor.
DESCRIPTION
Gas measuring, monitoring and warning controller based
on state-of-the-art micro-technology with integrated
sensor and internal buzzer for the continuous monitoring
of the ambient air and detecting toxic gases and vapours
or oxygen. The SPC-X3 is provided with an input for one
external analog transmitter. 4 alarm thresholds per
sensor/transmitter are free programmable. Configuration
and operation are possible via the logical, simple system
menu structure without specific programming knowledge.
APPLICATION
The SPC-X3-TOX is suitable for a wide range of
commercial and industrial applications. Free
programmable parameters and set-points enable the
individual adaptation to a variety of possible applications
in the field of gas measuring and monitoring.
FEATURES
Continuous monitoring
Integrated gas sensor
Good resistance to poisoning
Long life expectancy
Modular design (plug-in technology)
Standard version with display/LED/keyboard and internal buzzer
Reverse polarity protected, overload-proof and short-circuit-proof
(0) 4 – 20 mA / (0) 2 – 10V analog signal output
2 x relay outputs 30 VAC/DC, 0.5 A
2 x binary output, 30 VDC¸ 0.05 A
4 – 20 mA input for external transmitter
Different housing versions
Approved according to EN 61010-1; ANSI/UL 61010 1; CAN/CSA-C22.2 No. 61010-1
LED flashing light in red (option)
3 x warning lights, colours: green – red – orange selectable (option)
Up to 3 power relays (potential-free, 250 VAC/DC 5A) (optional)