Level controllers for rainwater utilisation systems
By ALVI Tags: Level controllers for rainwater utilisation systems
ALVI Automation (India) Pvt Ltd in association with ALVI Technologies brings to you the state of the art German Technology based Level controllers for rainwater utilization systems by JOLA GmbH.
Level controllers for rainwater utilization systems, FNR range
Operating principle
The components of the FNR range are an FNR fresh water refill controller and one or more suspension electrodes. The FNR 5 and FNR 7 fresh water refill controllers operate according to the conductive measuring principle.
In combination with an LWZ suspension electrode, the FNR 5 is used for purposes such as the controlled refilling of fresh water into a rainwater tank. If the level in the rainwater tank falls below the minimum fill level, a relay output activates refilling of fresh water (e.g. via a solenoid valve). Once the minimum fill level has been reached again, the switching status of the relay output is maintained for the duration of the delay time of approx. 10 seconds (standard) and the refill function is then switched off again. This time delay serves to suppress multiple switching actions in the event of wave motion and results in a level hysteresis whose magnitude depends on the tank dimensions and the strength of liquid inflow.
If, during the refilling cycle, the minimum fill level is not reached again within the monitoring time of approx. 30 seconds (standard), the relay output for refilling is switched off, and a second relay output is activated to issue an alarm due to timeout. This feature is designed to prevent uncontrolled refilling in the event of tank rupture or inflow defects, as well as in the case of electrode cable break, if ther is ice on the electrode or if the electrode has been removed. The various switching statuses are indicated by LEDs. In addition to the features described above, the version FNR 7 is also equipped with 4 LEDs to indicate the tank fill level, and these LEDs are individually controlled via 4 EH or EHK suspension electrode.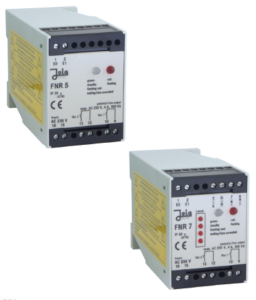 For more information please mail us at info@alviautomation.com or contact us 
Click here to download the datasheet