Description: 
Metane (natural gas, Methane, LNG, PNG) sensor transmitter for online, continuous LEL / flammability or leakage detection in ambient air or ducts.
The detector is explosion proof IECEX, ATEX certified with SIL 2 safety level and suitable for installation in hazardous area Zone 1 and Zone 2.
The instrument can be installed at landfill application, sewage treatment plants, fertilizer industry, gas bank etc.
It is available with LCD Display, onboard relay contacts, flashing alarm LEDs, auto diagnostic watchdog, non-intrusive calibration, with the industry standard linear analog output.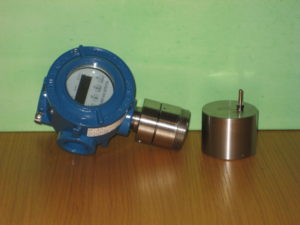 online, continuous monitoring of methane / natural gas / PNG / LNG leakage or LEL level, wall or duct mount, with / without display & relays, ATEX certified with safety integrity level SIL 2, explosion proof for Zone 1, 2

Model: PX2-2-X-P3400-A
Methane, chemically known as CH4 is highly flammable, lightweight gas with LEL at STP 5% v/v.
Methane gas detector series is highly robust, industrial grade, flameproof or explosion proof gas detector for methane leakage detection or LEL monitoring. Methane is also available in form as natural gas, pressurised natural gas (PNG), liquiefied natural gas (LNG).
The detector is used for online, continuous monitoring of the flammable concentration of methane in PPM, %LEL or %Vol terms in ambient air or in duct or pipeline. It is ATEX, IECEX certified with SIL 2 safety integrity level for hazardous area installation Zone 1 and 2.
The sensor transmitter offers linear, proportional analog output in industry standard current signals, over measuring range of 0-1000, 0-2000 PPM,     0 ~ 100 % LEL (lower explosive limit). The detector works on highly sensitive catalytic bead-based pellistor sensor cell, with low response time. It has unique feature of auto diagnostic watch dog with zero point tracking feature. Due to its 12-bit microprocessor based control unit, it offer high accuracy over long term. The detector is also equipped with sintered filter with flashback arrestor for enhanced safety.
It also offers optional features like inbuilt LCD display, flashing alarm LEDs, onboard potential free relay contacts (24VDC @ 1 A), RS485 serial interface with Modbus RTU communication.
Key Features:
Catalytic bead based Pellistor, Electrochemical sensor cell with low flash energy
12-bit microprocessor control unit
Non-intrusive one man calibration via hall effect switches
ATEX certified explosion proof / flameproof, suitable for Zone 1, 2 gas explosion installation
Linear, proportional analog industry standard current output
Continuous system self-diagnosis with watch dog
Flashback arrestor with sintered filter
Auto Zero point tracking to zero point compensation
SIL 2 HW TUV certified
RS485 serial interface with Modbus RTU communication (optional)
1 or 3 relay output module (optional)
System and alarm LED indicators (optional)
Modbus RTU communication over RS485 serial interface
Methane sensor transmitter – hazardous area Zone 1, 2 with ATEX certified, flameproof
Technical Specifications:
Measuring Parameters: LEL level or leakage detection – methane, LNG, PNG, natural gas
Sensor Technology: Catalytic bead based pellistor sensor cell
Measuring range: 0 ~ 100 % LEL ( 0 ~ 5% v/v @ STP)
Response time (t90): < 30 sec
Control unit: 10 bit microprocessor based
Warm up time: < 5 mins
Auto zero point tracking for drift compensation
Power supply: 24 VDC
Ingress protection: IP65
Enclosure: Stainless steel (for sensor cell), anti-static epoxy coated metal alloy (for transmitter)
Output: linear, proportional 4-20mA
Mounting: wall, duct, pipeline
Safety integrity level: SIL 2
Optional: LCD Display, alarm LEDs, potential free relay contacts
Hazardous area: Zone 1, 2
Application:
Coal mines, underground mines
Oil & gas, refinery
Fertilizer industry
PNG/city gas distribution system
PNG / LNG automobile gas filling stations
Landfill Gases
Sewage treatment plants (STP), effluent treatment facility
Cryogenic application
Chemical, petrochemical industry
Food processing industry
Furnace, burner application
Gas reticulation system
For more details please drop us a  mail at info@alviautomation.com or contact us
You can also visit our new online product portal for various commercial and industrial application www.alviautomation.in